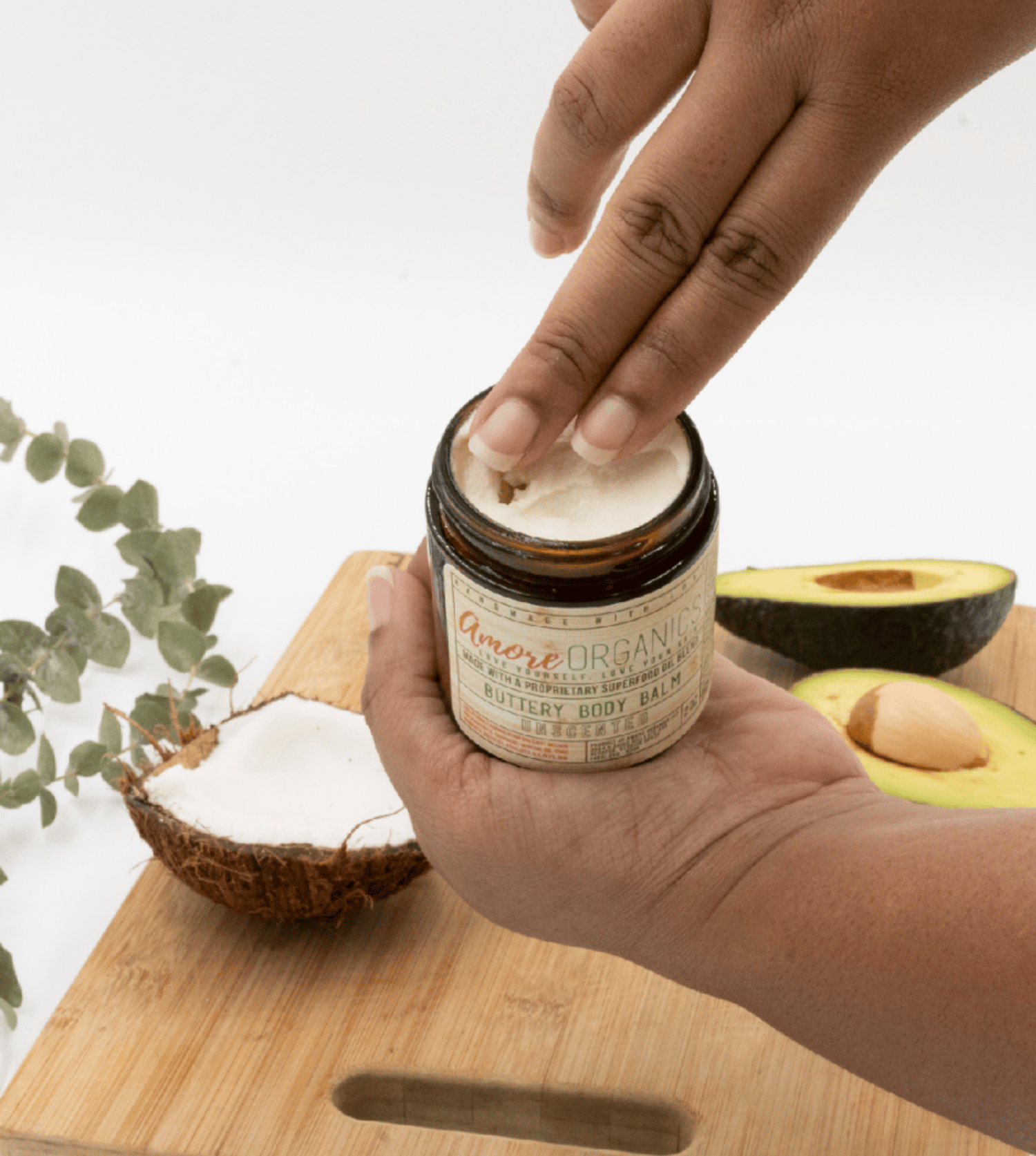 Buttery Body Balm
Replenish and renew dry skin with our luxurious hand whipped Buttery Body Balm. Enriched with an organic blend of oils and raw shea, mango, avocado, and cocoa butters. Naturally rich in antioxidants and skin repairing vitamins, this body balm will give you long lasting hydration without feeling greasy. This is the only body butter you will ever need!
INGREDIENTS
Love, Mango Butter, Shea Butter, Avocado Butter, Unrefined Cocoa Butter, Organic Unrefined Coconut Oil, non GMO Superfood Oil Blend, Orchid Extract, Kaolin Clay.
SUGGESTED USE: For best results use after our 3-in-1 Moisturizing Body Scrub. With clean hands apply to skin and massage into your body until absorbed. So don't rush, remember this is your time.
HOW IS IT PACKAGED?
Our Buttery Body Balms come sustainably packaged in glass or tin. When you buy from us you are helping to REDUCE plastic waste in your community. After the product is gone, you can REUSE the container for another purpose. If you decide not to reuse it, please responsibly RECYCLE it.
HOME CARE & STORAGE: Our Buttery Body Balm does not contain a preservative therefore; it is recommended that you make sure your hands are clean before every use. Store in a clean, cool, dry area away from sunlight. Not open in the shower. Heated temperatures over 76° will cause body butter to melt. If melting occurs, put in refrigerator until it solidifies.
Shelf life: 1 year
CAUTION ABOUT USAGE: Although our products are high quality and all natural it does not mean you are exempt from having an allergy to an ingredient. It is always safe practice to patch test first to make sure no sensitivities or reactions will occur.
*The information contained herein is provided solely for educational purposes. These statements have not been evaluated by the Food and Drug Administration. This product is not intended to diagnose, treat, cure, or prevent any disease. Statements related to topical products made with natural food-grade herbs and oils are not approved by the FDA. Our products have not been tested as safe by the FDA. Statements contained on this website and our labels are not presented as medical advice nor should be used as a substitute for consultation with a qualified health care practitioner. If you suspect a serious illness or health condition please seek licensed medical help.